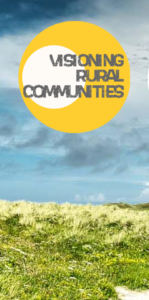 Are you a dreamer? An idealist? Do you feel passionately about Scottish rural life? Are you ready to create your own vision for the future?
The Social Enterprise Academy's innovative new programme starting in February 2021 invites you to dream dreams about how you want society to be, develop creative ways of sharing that vision and explore making meaningful change in your community and Scottish rural life.
Visioning Healthy Rural Communities invites people from across the north of Scotland to coalesce around visions of positive change in health and social care within community settings. Telling the story of a vision can be a powerful means of communicating change. With skilled facilitators, inspirational speakers and collaborative thinking, participants of this innovative and thoughtful online programme will be guided to stand as their future selves, tell the story of their unique vision and create opportunities to hear and be heard from others with a diverse point of view.
All you need is a couple of hours a week for 6 weeks, an open mind and a listening ear!
Intrigued? Inspired? Curious? Email Dan Cottam dan@socialenterprise.academy to find out more.
More information here: visioning healthy rural communities leaflet