Zines
What is a Zine?
A small self-published nonprofessional magazine. By the people for the people! Our Zine challenges stigma surrounding mental health and inspires folk to get better CHIME – Connection, Hope, Identity, Meaning and Empowerment – the key wellness things research has revealed.
Why a Zine?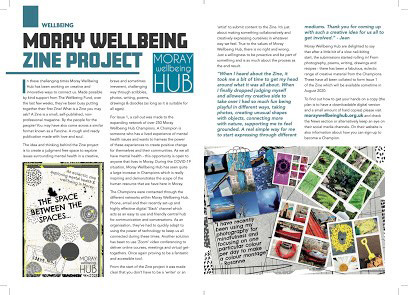 We wanted to create a judgment free space to explore issues surrounding mental health in a creative, brave and sometimes challenging way through scribbles, photos writing, poems, drawings and doodles. All ages can read it, all ages can contribute!
Read about the process in this news story from Lifestyle Magazine.
Want to Zine?
We have no schedule to our Zines, when we feel the time is ripe for a theme we set it out there and see what the community of Moray has to bring us for collation. If you want to contribute, make sure you sign up to our newsletter and watch out for calls to creative action! We also love to hear from you if you have a Zine idea. Pop us note with the title: Zine ideas via contact us
Hard copies can be obtained from fantastic local community hot spots of connection. If there are none there then do get in touch. Should enough folk want them we might order more to be printed!

Also available locally from:

Forres: Credit Union
Buckie: Time Restaurant
Cullen: McKays Mini Market
Keith: Annan's Hardware
Dufftown: Coffee Pot
Aberlour: The Gather'n Cafe