EVENT: Friends of ANCHOR Brave Fashion Show
Local man Paul Stewart shows he's Brave as he takes to the catwalk on behalf of Friends of ANCHOR.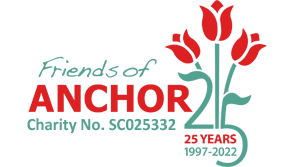 MWH recently met Rothes man Paul Stewart, a supply planner at Gordon and Macphail, and heard of his experience of non-hodgkin lymphoma.
Paul received treatment in Aberdeen at The ANCHOR Unit, a collective of specialised wards and clinics within Aberdeen Royal Infirmary – the central hub of cancer and haematology care for the North-east of Scotland.
He said "The ANCHOR unit provide so much support to patients and their families undergoing treatments & consultations, while also provisioning for cutting edge research."
"I have been fortunate to experience their good work first hand. When I was undertaking my own treatment, the friendly, hard working Friends of Anchor reps along with the clinic nurses, provided so much light-hearted relief, relaxation and comfort to what could and should have been a very un-nerving situation."
Paul is now taking his courage one step further, by taking part in the Friends of ANCHOR Brave all-male Fashion Show at Aberdeen's Beach Ballroom, and raising vital funds to support a new centre.
"I am honoured to have been chosen to participate in this Friends of Anchor event. To challenge myself, while spreading the good word of Friends of ANCHOR, all while hopefully providing some reassurance, that there can be continuation after Cancer, it doesn't have to mean the end. I used positivity as a key factor to aid in my fight, shored up by my rocks; my wife, two boys, and dog."
All donations from the event will go towards the charity's ANCHORED Together appeal, the charity's biggest campaign to-date will provide vital investment for The ANCHOR Centre, due to open in Aberdeen in 2023 and estimated to be used by 65,000 patients every year.
To find out more about the event, visit the Friends of ANCHOR website