A new campaign has been launched to raise awareness around an NHS self referral service for people who have experienced rape or sexual assault.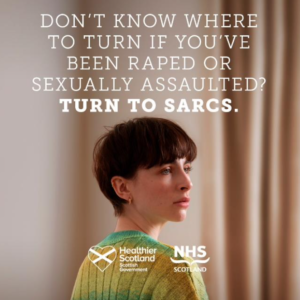 The Sexual Assault Response Coordination Service (SARCS) is a dedicated NHS phone service which can arrange healthcare, forensic examination and support to people who may not wish to or who are not ready to make a police report.
SARCS can help to arrange care for you in the days following a rape or sexual assault. The service may be able to arrange for you to have a forensic medical examination (FME) at a SARCS without making a report to the police.
Sandy Brindley, Chief Executive of Rape Crisis Scotland said: "This is a huge step forward in improving responses to rape in Scotland. Immediately following rape or sexual assault can be a really difficult time to make a decision about whether to report what has happened to the police, but there are time limits involved in being able to capture forensic evidence. Self-referral means that if someone doesn't feel ready to make the decision about reporting they can ensure all the evidence is captured and make the decision when they are ready."