The Scottish Child Payment
is a new payment for families on certain benefits or tax credits to help towards the costs of looking after a child. It's £40 paid every four weeks for each child under six; this will be extended to under sixteen by 2022.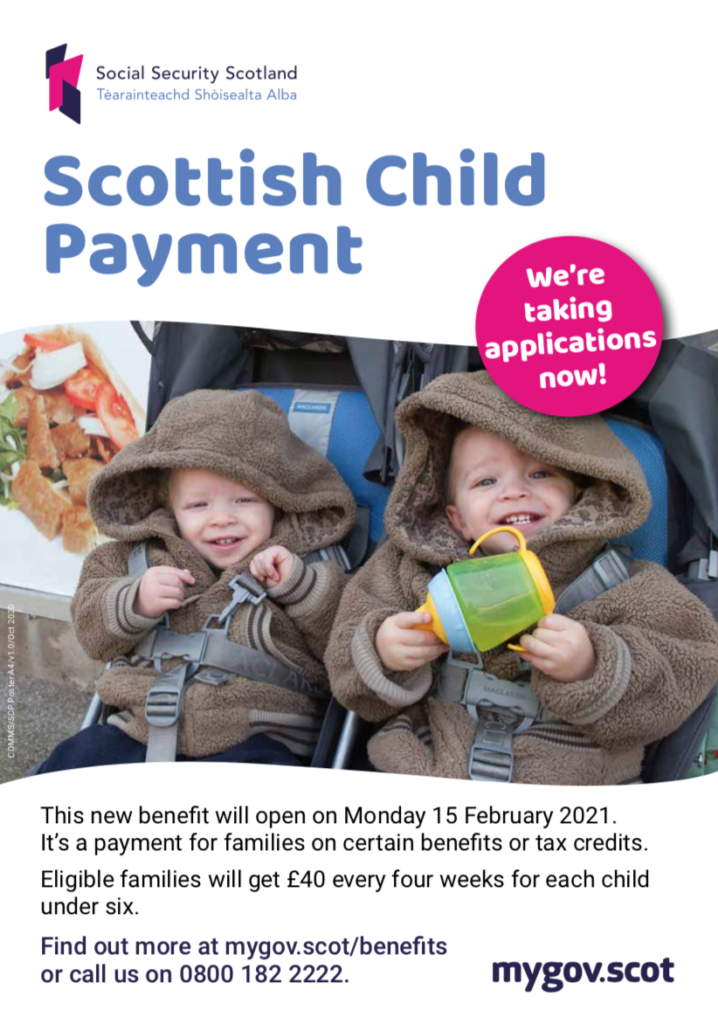 The pre-application window opened on 9th November 2020, applications are being taken early to help manage demand as an estimated 194,000 children under 6 are thought to be eligible for the new payment.

Clients can make an application over the phone by calling 0800 182 2222 (line open 8am 09/11/20), you can also fill in a clerical application form which can either be downloaded or you can ask for one to be posted to you by calling the freephone number. Alternatively you can use the online application which can be found at the www.mygov.scot website alongside other payments.
There are a couple of key areas to note about this payment:
1. 
The payment is currently only available for children under 6 years old
2. 
9th November 2020 – 14th February 2021 is the pre-application window; no payments will be made in this time, payment launches 15th February 2021
3. 
Payments will start
being issued to eligible clients from the end of February 2021; SCP will be paid from 15th February for those that have applied prior to this date and are eligible
4. 
If the child turns 6 before 15th February they will not be eligible for the payment.
5. 
The payment will stop when the child turns 6, clients should receive a letter about 4 weeks prior to the childs 6th birthday advising them their payments will stop.