Here at Moray Wellbeing Hub we are proud to share this major campaign that has launched today called "United to Prevent Suicide."
We also run courses around Suicide Awareness which are for anyone in Moray to increase their skills around this topic – Don't be afraid to ask hard questions! Next course is 11th September 2020, online. You can sign up here. We hope to run more courses like this in the future so keep an eye on our pages!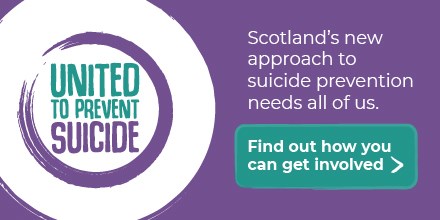 Today, 10th of September, is World Suicide Prevention Day and in Scotland a major campaign is being launched to tackle this called "United to Prevent Suicide".
Many of us have been affected by suicide in some way – whether it's ourselves, a loved one, or someone we know; Suicide is of concern to all of us.
It is a leading cause of death among young people and men are three times more likely to take their own lives compared to women. Yet we still find it difficult to talk about suicide. Now is the moment for change.
United to Prevent Suicide is for anyone who is passionate about this issue and building the most supportive country in the world. Sign up today!
We all have to play our part in preventing suicide and you can too by being part of this campaign. Show you care