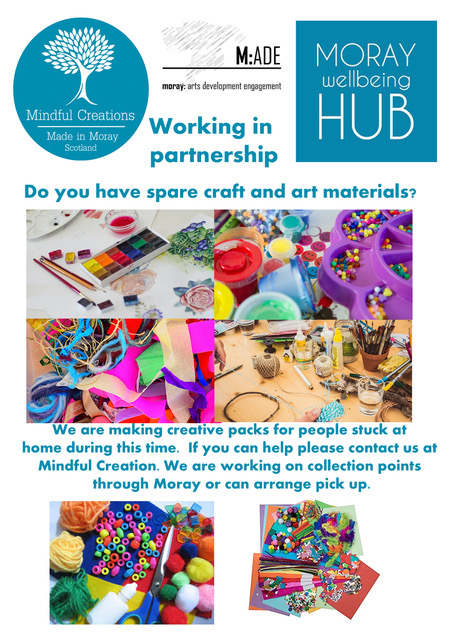 Mindful Creations CIC, M:ADE (Moray Arts Development Engagement) and Moray Wellbeing Hub CIC have joined forces in developing a project for distribution of creative packs for vulnerable individuals in Moray.
The goal is to acquire  a selection of spare art & craft supplies and due to the high demand additionally purchase some materials to form creative packs.  These created packs will be collected, cleaned and redistributed to vulnerable individuals who would benefit from these.
What can I do to help?
If you have craft materials that you can donate or craft ideas for inspiration to go in the creative packs, please contact: chris_encompass@yahoo.co.uk or go to the Mindful Creations facebook-page.
All sorts of materials are collected: scrap material, colouring and painting items, paper, craft items, thread and much more!
You can also choose to support the project by donating
here.
If you can't donate, you can also support by sharing the
facebook
post.