A message from Findhorn Bay Arts:
The door of our High Street space has once again opened as we welcome our first artist in resident Caroline Inckle! Exploring the theme of high street stories, Caroline invites you to join her in conversation and creativity about Forres High Street. You can try your hand at creating something new or you can simply have a cup of tea and chat during Caroline's open studio day…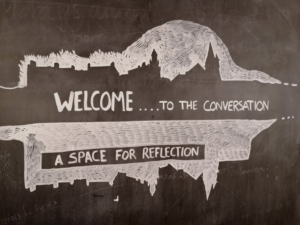 Saturday 14 March at 86 High Street, Forres
Open Studio, 10am-1pm  |  Photo Walk, 2-3pm  |  Refreshments & Open Studio, 3-4pm
Join Caroline to find out more about her work or stroll down Forres High Street with her to capture images and stories together. The short walk (weather permitting) will be a chance to share stories which have emerged during the residency so far and to enjoy capturing together some close encounters with the architecture of the High Street. Please bring along your own short story or memory to share and your phone, if you have one, for taking photos.
For those that enjoy creativity……
Moray Wellbeing Hub are hosting our For Enjoyment sessions over the Spring:
FREE For Enjoyment sessions – fortnightly sessions in alternating venues and activity!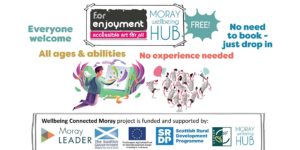 Saturdays, next session is on 14th March running fortnightly until 9th May 2020 – 2pm-4pm
ALL welcome
all ages (0-100+ welcome!)
no experience needed
come solo or bring a friend or family member or two!
Mindful Creations Cummingston:
Focus on visual arts – Saturdays 28th March, 25th April
Speyside High / Sports & Community Centre, Aberlour:
Focus on movement – Saturdays 14th March, 11th April, 9th May