Calling budding musicians that would like to learn something new!
New 6 week course in Drumming and Percussion with Dance for beginners starting up next Wednesday 15th Jan – to February 12th 7.30 pm – 9pm Cost £54 for the block.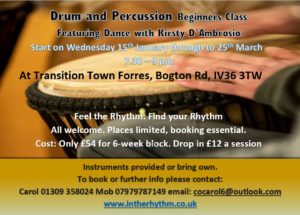 The class is supportive, relaxed and fun with an experienced and qualified teacher/ facilitator, and percussionist.  Drumming is good for emotional and mental health and an all round healthy activity – it brings people together to express themselves in a different way. Drop in is possible and concessions can be offered for new people to try out the class. Please get in touch with Carol if you wish to book or find out more.
Check out the website
here