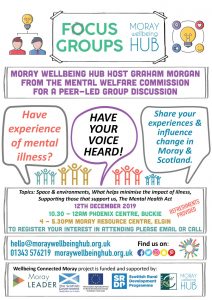 We will be running two Focus groups as part of our Wellbeing Connected Moray project funded and supported by Moray Leader Both will be taking place on 12th December 2019:
Phoenix Centre, Buckie: 10.30-12am
Moray Resource Centre, Elgin: 4 – 5.30pm
Moray Wellbeing Hub look forward to hosting Graham Morgan from the Mental Welfare Commission for a peer-led group discussion. Refreshments will be provided.
Do you have experience of mental illness?
Have your voice heard!
Share your experiences and influence change in Moray and Scotland.
Topics:
Space and environments
What helps minimise the impact of illness
Supporting those that support us
The Mental Health Act
To register your interest in attending please email hello@moraywellbeinghub.org.uk