Time to Talk Day is on 6 February 2020
February really isn't that far away! So it's a good time to start thinking about how you can get involved in this very important day. There are national resources available to help you decide but locally the Moray Wellbeing Hub are here to help and give advice. We will be involved in some big events for community members, so watch out for more information coming soon!
In the meantime here is what Time to Talk is all about: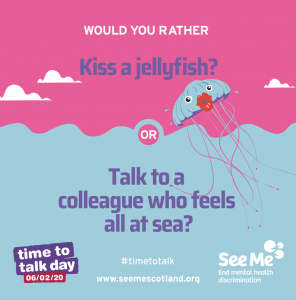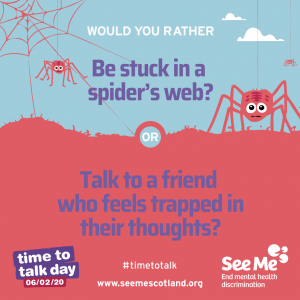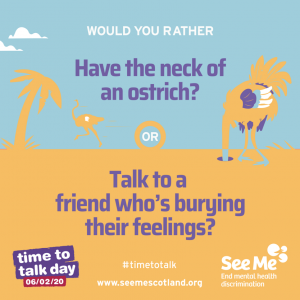 On February 6th See Me will be co-hosting Time to Talk Day, with their partner organisations in England, Wales and Northern Ireland.
This is the third time they have been involved in Time to Talk day after huge successes in previous years.
Last year they ran had 300 workplaces, schools, universities, football teams, youth clubs (and more) taking part all over Scotland, ordering packs and holding events to get people talking about mental health.
Alongside that, on social media #TimetoTalk was trending at number 1 in Scotland and the UK and number 2 worldwide.
Too many people with mental health problems are still made to feel isolated, worthless and ashamed.
Conversations have the power to change lives, wherever they take place.
This year conversation is at the heart of the day and they will be using the popular game 'Would you rather?' to encourage more people to talk than ever before.