Aiming to reflect on the changes to services and projects over the last couple of years driven forward by the strategy Good Mental Health for All in Moray, as well look forward to what might be possible for the future and explore opportunities for new ideas, a wide range of people contributed to this event at Moray College UHI. Within the 50 people attending there were representatives from all types of Health & Social Care Moray roles but also local charities, community groups and many who identified as community members with living experience of challenge and recovery in mental health.
The format was around short presentations with reflection and discussions in small groups. Where possible the presentations and the notes are included in this reflection and all presenters are delighted to answer further questions (please send requests via Moray Wellbeing Hub here).
Charing the event, and the Making Recovery Real partnership, Pam Cremin (Integrated Service Manager for Mental Health Services, Health & Social Care Moray) opened the event welcoming everyone to the space, encouraging people to connect and feel welcome. She explained, "At the end of the day we want to understand the journey we've been on but also what we need to do in the future."
Every table had a creative tool with a picture of a rainbow and clouds to help them reflect on the presentations in the event. There would be strategy and project presentations with spaces in between to have a quick chat and make notes.
The event started with a connecting up activity based on CHIME (Connectedness Hope Identity Meaning Empowerment) reminding us that we all have mental health and the things that help and support us are in the everyday.
Once connected, and reminding us throughout that, "We are all individuals and partners in mental health", Pam gave a full overview of the mental health strategy. Developed in 2016, the Making Recovery Real partners, who keep the delivery of the strategy on track, all stood up to say hello. Those working together include statutory services (Health &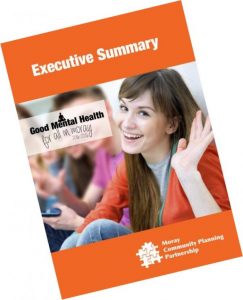 Social Care Moray), services commissioned to deliver work for the statutory body (SAMH, Penumbra), community groups, charities and social enterprises (tsiMORAY), the voice of personal experience of recovery in mental health as a social movement (Moray Wellbeing Hub) and national partners (Scottish Recovery Network).
"We wanted to see ourselves as recovery partners rather than just services." Pam made it clear that services had changed with the aim of, "Ask for help and get it fast and the right way", that choice was important and that there was still much that we can achieve together in the future.
Another key point was the reliance on GP's and how we can ease this, "When any of us get ill, physically or mentally, we think we need an appointment with our GP. So most of the services we are trying to develop are in the community".
Pam's slides are very useful as a way of understanding the big picture of mental health in Moray and the strategy – Download this here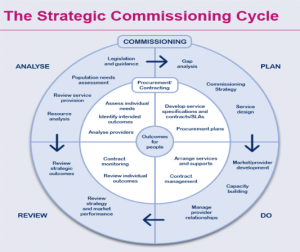 Tracie Wills, senior commissioning officer Health & Social Care Moray, then shared on commissioning of services how this works as a process to help everyone understand how our public money can be used to achieve the change we want to see. She really impressed the importance of working together, of relationships and evaluation, also that we as people 'commission' every day. "It's not a difficult idea. We all commission, like when we go on holiday and we look for the best price and choices. When we get home the family can sit down and review it …that did work but this didn't. We then might make a different choice next time. That is just like our commissioning cycle"190401 Commissioning Presentation MH Event
Ne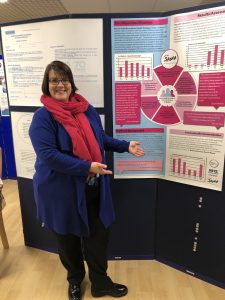 xt up Kirsteen Pyett (Team Manager Mental Health Social Work Team) and Tracy Grant (Service Manager SAMH) shared their new service test of change. Offering a service 9am to 9pm and focused on what people had asked for. Kirsteen impressed on the room that it was about working together, those that used services and those that provide them, to find something that works that everyone can do together. They had recently created an award-winning poster on this service change and talked us through this. (Photo: Kirsteen & the winning poster) – download the poster here SAMH POSTER.
Tracy shared the general premise of the service: people are supported in hospital, from there supported out in the community around issues like housing. There was also support for people working in different ways – encouraging self-management approaches where people decided what they wanted and needed, instead of having a set time that a SAMH worker would come to support them. The new way of working recognises the partners from the third sector as equals, having them around the table making decisions. Tracy spoke about how daunting this can be for a non-statutory sector worker, "It was very new for me to go to the referral meetings, someone from my sector… even though I knew them. But this way is much better and we can work together from the start." The great news is that the Care Inspectorate has already reviewed this service and it received a 6, a very high review.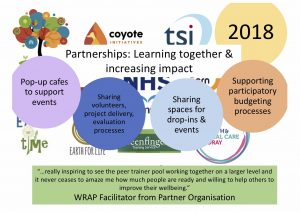 After a break it was Heidi Tweedie, Champion & Director, Moray Wellbeing Hub CIC who went on to share the social enterprise & movement update. The key points were that over the last year projects led by lived experience, such as the "Mental Health Pathways in Moray" resource, have proved to be helpful to a wide range of people from GPs to dentists to carers.  The success of such resources is mainly down to a partnership way of working that included the voice of those who use and provide services. The full presentation and notes are here – 190417 MWH update MRR presentation copy
Next, it was Holly Hendry (Scottish Recovery Network) and Elidh Brown (tsiMORAY) sharing their experiences of the journey over the last 5 years with participatory budgeting (PB). Elidh explained that PB is about, "people who are affected by decisions making decisions". Holly explained it was about equality and all being involved as partners, Elidh highlighted that participatory budgeting is a key vehicle for taking recovery back into communities using CHIME. Their presentation is here.PB Presentation HH EB
Finally, a little later than planned, Holly and Heidi shared the Family WRAP project. This was an approach were they used Wellness Recovery & Resilience Planning approach with families in partnership with Earthtime. The activities included firelighting as a way to explore positive risk-taking, and it showed a novel approach to using small funds through the Participatory Budgeting process. Have a look at the Family WRAP presentation here.
The afternoon was then a chance to take the key sections of the strategy and look at what more could be done. Small groups moved round stations giving them the chance to comment and discuss key issues. All the information gathered at the celebration will be collated and used to create a feedback report which we will share as soon as it is ready.
The final activity was to share a new resource to help "Make Recovery Real' beyond the event. You can download this resource in a format for printing here.PDF Action Card Make Recovery Real in Moray
Make Recovery Real in Moray…today!
Creating change need not be a massive commitment,
we can all make a difference with these small steps & top tips.
| | |
| --- | --- |
| Connectedness | Include others as partners in your ideas, projects or service. Recognise the extra time as well as extra benefits to true coproduction. |
| Hope & optimism | Help celebrate what is happening already – share events, ideas and resources through word of mouth, flyers or online. |
| Identity | Consider your own mental health, visibly live CHIME, be authentic with others by asking for support. |
| Meaning | Get involved making change that matters to you. Be proactive in campaigns, join a local forum, become a Champion (ideas overleaf). |
| Empowerment | Learn more about what works and is available for good mental health. Attend training and personal development to improve your skills. |
Next steps & support resources
Join Moray's Social Movement for Change – Become a Champion: Sign up online with Moray Wellbeing Hub. Commitment to values not time. Support to deliver within existing roles or create new ones. All ages welcome. Regular opportunities and support.
Health & Social Care Moray: Opportunities to share your experiences, views and ideas on current and future health and social care services. Make your voice count by emailing involvement@moray.gov.uk
Making Recovery Real Partnership: Strategic planning for delivery of 'Good Mental Health For All' this group is open to new interested members from a range of backgrounds and experiences, including those who deliver services and projects. For more details email hello@moraywellbeinghub.org.uk
tsiMORAY membership: Helping to grow and develop volunteering, community groups, charities, voluntary organisations and social enterprises across Moray. We help the groups and individuals we work with take part in local planning and decision-making processes that affect them. There are two forums open to new members with regular meetings and emailed updates.
Health and Wellbeing Third Sector Forum: aims to ensure the third sector are an equal partner in the integration of health and social care in Moray
Children and Young People's Forum: open forum that connects charities, voluntary organisations, community groups and social enterprises that provide services to children, young people and families.
Online resources & opportunities sign up to mailing lists (most also have social media options):
 www.moraywellbeinghub.org.uk                  www.scottishrecovery.net                 www.tsimoray.org.uk
www.hscmoray.co.uk                         www.yourmoray.org.uk