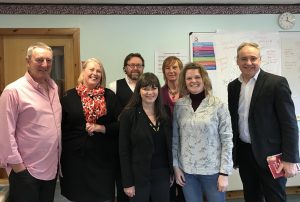 Last Friday we were pleased to welcome Clare Haughey, the Minister for Mental Health, and Richard Lochhead local MSP to chat with some of the Champions of Moray Wellbeing Hub CIC.
We focused on sharing the fact that we host an inclusive approach to peer-support – welcoming anyone that is keen to sign up to our values rather than any external lables – as well as the role of the social enterprise in driving the movement forward.
As one of the directors pointed out, "We're not doing bad over the last two years", to which the minister responded that we were doing better than not bad! She seemed very interested in our approach and we hope she took back our Champion style of welcome (including some cream cakes and shortbread of course!). Perhaps she will now feel more informed about Moray approaches in partnership that include lived experince of challenges in mental health and also some ideas for other rural areas.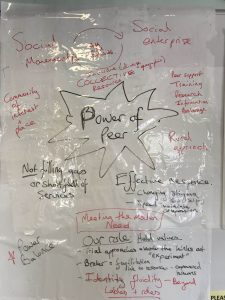 As is the way of these things time is short with a minister, but we think we got across all the main points that we were keen to share.
Thankfully we also put up a poster to remind ourselves of what we wanted to talk about and left it up for everyone to read, giving all a second chance to see the key topics.
Thank you to everyone for making the meeting so dynamic and relaxed – even when a surprise reporter from the P&J turned up mid way!