Transition Town Forres have a new Centre Manager! – A very warm welcome to Anne Owen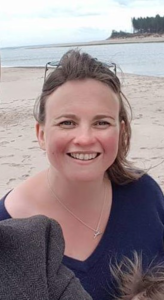 "My name is Anne Owen and I am delighted to be joining Transition Town Forres as the new Centre Manager. These are strange times and it will take a wee while for me to be able to meet you all and introduce myself in person.
Here's a wee 'hello' in the meantime and a bit of info about me. Originally from Edinburgh, I moved to Moray in 2003 to take a post with The Moray Council, as Museums Officer (Interpretation & Outreach), based at The Falconer Museum, Forres. I loved this role and it allowed me to meet and work with lots of different community groups in Moray – something that I hope will be useful at TTF. Funding cutbacks mean that sadly, the Museums Service is now closed and I was made redundant in March 2020. Luckily for me, this job came along at exactly the right time and I'm so excited about being able to be part of such an inspirational community group.
I have 2 children, Joseph and Rosie, 2 tabby cats, 4 hens, a naughty dog and a rescue rabbit and we live just outside Rafford in the beautiful Pluscarden Valley. I love swimming, veggie growing, cooking, reading and running….well to be honest more like a gentle jog…
I am looking forward to working with TTF and all the wonderful groups that share this lovely centre. I hope the lockdown doesn't last too long and we can meet in person and work together soon. "
And welcome to Transition Towns new Project led by Anne – Growing Strong!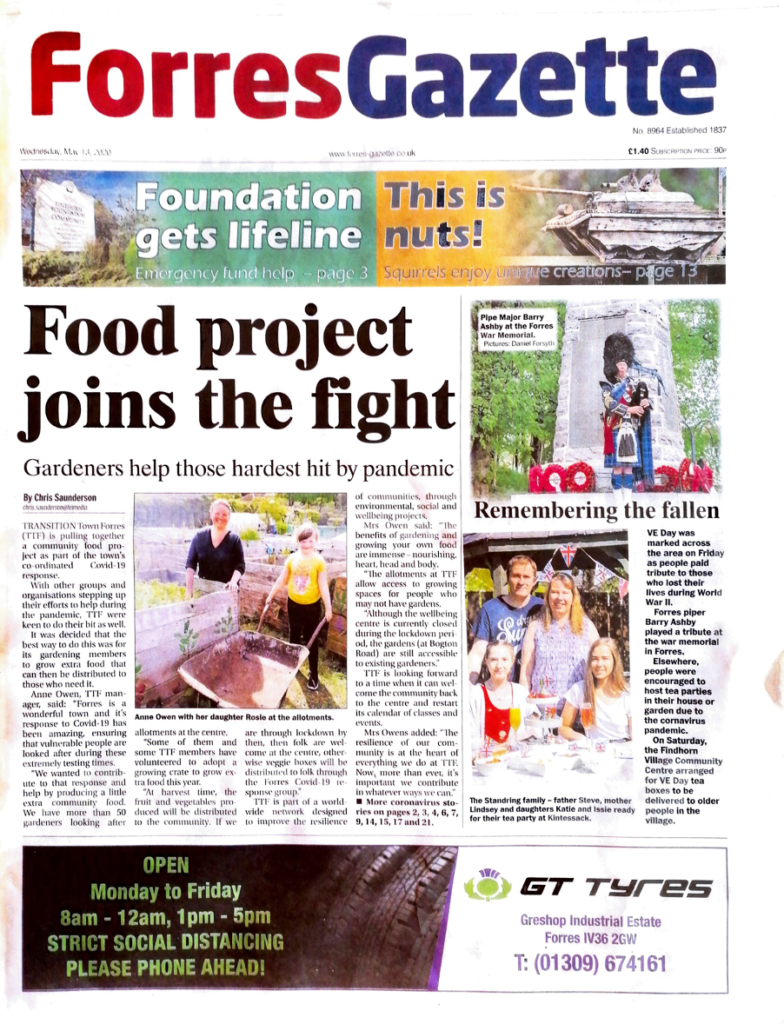 We are organising a community food project as part of Forres' co-ordinated 'Covid-19' response.
Anne Owen, explains the idea behind the project, 'Forres is a wonderful town and it's response to 'Covid 19' has been amazing, ensuring that vulnerable people are looked after during these extremely testing times. We at TTF wanted to contribute to that response and help by producing a little extra community food.'
'We have over 50 gardeners looking after allotments at the centre. Some of them have volunteered to 'adopt' a growing crate to grow extra food this year. '
'At harvest time, the fruit and vegetables produced will be distributed to the community. If we are through lockdown by then, then folk are welcome at the centre, otherwise veggie boxes will be distributed to folk through the 'Covid 19 response'.
We are part of a worldwide network designed to improve the resilience of communities, through environmental and well-being projects.
Anne says  'the benefits of gardening and 'growing your own' are immense -nourishing, heart, head and body. The allotments at TTF allow access to growing spaces for people who may not have gardens. Although the centre is currently closed during the lockdown period, the gardens are still accessible gardeners. We are looking forward to a time where we can welcome you back to the centre and re-start our calendar of classes and events.
Anne adds, 'The resilience of our community is at the heart of everything we do at here. Now, more than ever it's important we contribute in whatever ways we can…