Power of attorney information day – 20th Nov 2019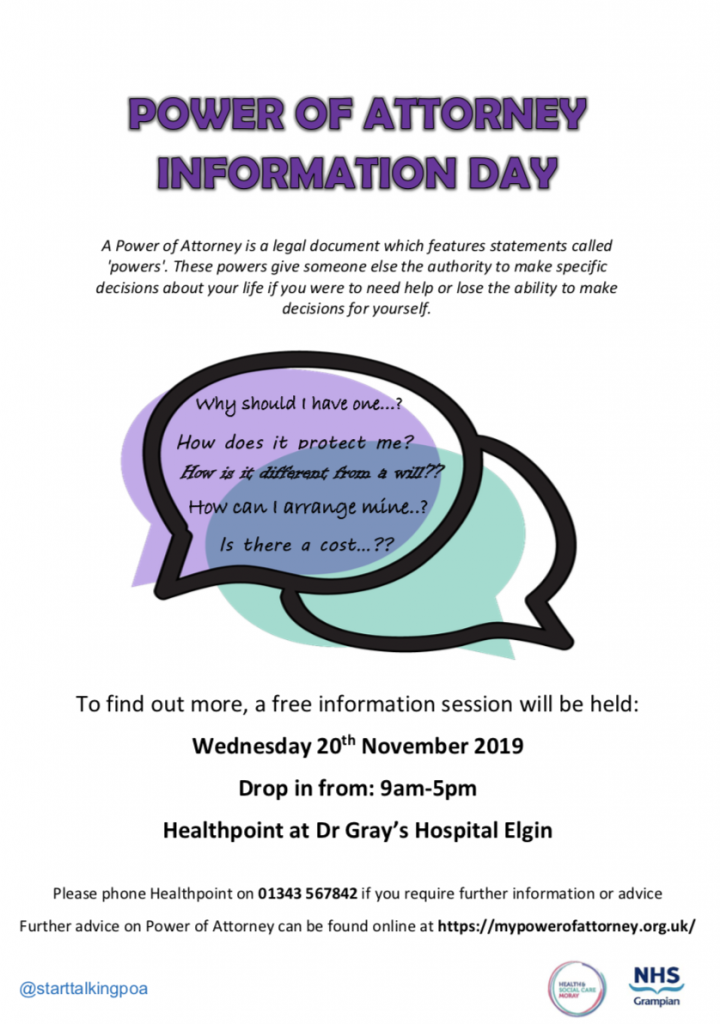 Power of Attorney is for People like you ….
Weds 20th of November is Power of Attorney day, which encourages us all to consider putting a Power of Attorney in place.
A Power of Attorney gives someone of your choice (your Attorney) the authority to take actions or make decisions on your behalf if you should suddenly be unable to do so for yourself. A Power of Attorney ensures that your financial affairs and personal welfare can still be dealt with/protected in the event of you being unable to. Nobody wants to consider a situation where they cannot make decisions for themselves, and we all hope that the time will never come. For most people this is true. However, for many people an event occurs which causes them to lose capacity to look after their own affairs.
To raise awareness about Power of Attorney, Health and Social Care Moray are holding an information session at Healthpoint, Dr Gray's Hospital Elgin. It is a drop in event and open to anyone who wishes to find out more
Further information at : https://mypowerofattorney.org.uk
Social media https://www.facebook.com/starttalkingpoa
@starttalkingpoa