Three Champions travelled to this national event looking to explore the key topics around integration of Health and Social Care in Scotland, two years on from legislation coming in to effect.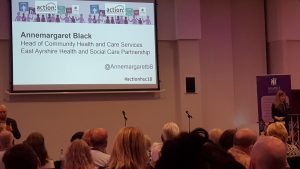 The event was structured around welcoming and closing sessions, with thematic workshops either side for the approximately 300 delegates to attend. Topics for these included human rights, community empowerment, outcomes, self-management, Brexit and young people.
Speakers included Annemargaret Black from East Ayrshire HSCP who focused on coproduction and examples of community successes to solve some very challenging issues around service redesign. Also, the Scottish Minister for Brexit Michael Russell MSP attended in place of Health Minister Shona Robison, and this gave a different flavour to the speech he shared; It was good to explore the day's discussions within a perspective of European and International remit.
As Champions our highlights were:
Chris, "The warmth of the people and sense of connection throughout the room. Hearing lots of people use strengths-based language. I enjoyed the Q&A session on participatory budgeting and community engagement, because the facilitator kept the discussion on topic and there were very valid points being made. It was inspiring to hear from people from Lewis and Harris and their 10-year struggles with local council on Sunday pool opening – it's amazing to see their energy continues. I shared our Participatory Budgeting good news, that we have had four successful rounds in Moray, and someone from Highland shared their story of Community Asset Transfer."
Heidi, "The strong theme of co-production, human rights and use of budgets as a way to explore power stood out for me. There was significant negativity around a 'them and us' conversation which felt de-energising; those who wanted to shout loudest happened to get hold of the microphone and sometimes this can prevent other voices and views. This was rooted in very real fear of the future from some carer voices especially and showed the depth of challenges faced by so many in relation to services. However, there was more use of terms like 'shared humanity', 'building trust' and people agreeing that those in positions of power were people too – community members, carers and had their own long-term issues. It was good to hear a strong voice of unity from a range of experiences."
Our next steps / action:
Chris – "I will take back that we are connected to our fellow humans across Scotland even if we don't know them. I shall be continuing to spread the word."
Heidi – "Today has reminded me of the challenges of taking an inclusive compassion-based approach where everyone is equal, whilst also finding the right way to enable people experiencing distress, or challenged in being mutual in a space because of their current inequalities, to not take over and create a negative de-energising environment. It really is hard to balance throwing rocks and militant voices, which undoubtedly hurt others but do express the very real pain people experience, with a strengths-based approach. Going forward I will continue to reflect on this and this will influence my practice in what we do in Moray.
You can read more about some of the workshops and the debate around these in our twitter feed and more on the ALLIANCE website.
Also on the ALLIANCE website you can find links to the recently published Independent Review of Hate Crime Legislation in Scotland by Lord Bracadale.
Following a consultation process, Lord Bracadale has recommended that existing laws be extended to include hostility on the basis of gender or age.
The report goes on to recommend changes to the language used in hate crime laws, new provisions that would allow the courts to recognise offences that involve the exploitation of vulnerable people and the consolidation of existing hate crime legislation.
Read the full story on the ALLIANCE website